As anyone who has been driving since, say, September knows, Christmas music is everywhere. Not that you have to be driving in order to hear Christmas music. You can pretty much go anywhere this time of year and hear Christmas music playing: mall, supermarket, temple, etc.
I actually enjoy a lot of Christmas music. It's tough, because society does everything it can to make you hate it. Play it everywhere, so you get sick to death of the good songs. Make horrendous covers, so you grow to hate the versions you like. Or just make awful, awful "original" songs.
These "modern classics" run the gamut from awful to not-so-awful, with a few exceptions. Those exceptions aside, modern Christmas music is filled with so much crap that it drowns out the genuinely good Christmas music. And there is a lot, which you may have forgotten after having practiced drowning out Christmas music in general for so long.
Once you learn to tune out the truly dreadful songs, such as Santa Baby (a song about seducing Santa Claus), Grandma Got Run Over By A Reindeer (if you like this song, please exit life), and Do They Know It's Christmas? (they should have implemented a donation system wherein the charity would receive money in order to have the song not played), you can start to remember the fact that there are a lot of damn good Christmas songs. Which, by the way, would make an awesome title for a holiday album.
Though it all boils down to personal preference, I have compiled a list to help guide you through the literally millions of Christmas songs out there. Where applicable, I mentioned the artists who perform my favorite versions. However, the songs themselves are the only thing I have cemented on this list. I can't, except in a few instances, label who did the best version ever, simply because there are so many versions of most Christmas songs.
This also isn't a list of "best modern Christmas songs" or "classic songs"; it's a giant free for all. This will decide who comes out alive in the Christmas Octagon. And, finally, this isn't really a "humor" article. It might be funny, but probably inadvertently. So if it is non-stop hilarity you seek, get out and never return. At least not until the next update.
Without further ado, I present:
The Coke-Babies Top 10 Christmas Songs of
ALL TIME.

A Charlie Brown Christmas – "Christmas Time Is Here"
This song, performed by the Vince Guaraldi Trio, has been a part of every person's childhood, provided they were born after 1950. The entire soundtrack is fantastic, although the idea that a jazz album based on an animated special doesn't seem like a recipe for success. Yet, it has managed to still be an extremely relevant Christmas album. What makes it such a great album is the variety, contrasts, and overall excellence in songwriting. The two tracks it is best known for, Linus and Lucy and Christmas Time Is Here, are almost polar opposites. Linus and Lucy is an extremely upbeat instrumental, a song that makes it difficult to avoid doing that stupid little head bop along to the music. I actually prefer this track; the reason I didn't select it for the list is because it just doesn't feel as Christmas-y as the other track. I love the sound of Christmas Time is Here because the music is such a downer. The vocals, with the droning, vaguely off-key bleating of children is far from perfect. However, they contrast with the low key jazz number that is backing them up, creating a blend of music that is unique to this soundtrack.
Harvey Danger – "Sometimes You Have to Work on Christmas (Sometimes)"
Many Christmas songs, even the good ones, fall short because they just feel so generic. It's always the same "We're oh so happy because it's Christmastime" vibe. On the other end of the spectrum, many of the more modern songs go with the "I Hate Christmas" theme, in an effort to differentiate themselves. While there certainly are good songs from both these themes, they tend to fall flat because it doesn't feel genuine. Not that I'm getting caught up in the artistic integrity, after all these are Christmas songs, for God's sake (no pun intended).
Sometimes You Have to Work on Christmas (Sometimes) succeeds because it isn't an utterly depressing tale of someone with nothing to live for on Christmas. It is a semi-depressing tale told in the first person of someone who, as the title suggests, is working in a movie theatre on Christmas. It's the fact that the story being told isn't completely sad that makes the song relatable; it's just someone being put in an unfortunate situation on Christmas. Since feeling like you're missing out on something during the Christmas season isn't an altogether rare occurrence, this song hits home in a way that others can't.

"Dance of the Sugar Plum Fairy"
On the complete other end of the lyrical spectrum (none) is "Dance of the Sugar Plum Fairy", part of the Nutcracker Suite. While the entire Nutcracker Suite is quite good, I'll be damned if I'm willing to sit through it very often. The standout for me, as well as many others, is the aforementioned "Dance…" This is the first of the truly classic Christmas songs on the list, and with good reason. This is one of the many great songs that, simply due to its ubiquity, gets lumped into the mediocrity of many other "classic" songs. As far as specific performances go, you can't really go wrong. My favorite version is performed by the Royal Concertgebouw Orchestra, which is a fairly standard version, though very slightly more upbeat. From there, you can get this song in all types of flavors. The Bolshoi Symphony Orchestra's version has a much more deliberate pacing, sacrificing performance speed for accuracy and skill. On the other hand, you have The Vandals, who trade skill for fun. You can't go wrong with it; the piece is so well written that nearly any version of it can be enjoyed by nearly anyone listening to it. It even managed to please the notoriously picky Beavis and Butt-head.

Bright Eyes - "God Rest Ye Merry Gentlemen"
This is the one instance where I am listing a classic song by a specific artist. This is because of the fact that I never thought God Rest Ye Merry Gentlemen was that great of a song. However, after hearing the song gutted, sped up, and basically re-imagined by an artist who I have never particularly cared for, it became one of my all time favorites. On a related note, the Bright Eyes Christmas Album is utterly fantastic. Like I said, I really do not care for Bright Eyes, or his mumbling, pseudo-folk nonsense. The Christmas Album, on the other hand, is a very imaginative collection of songs. This album also contains two other songs on my top 10 (although this song is the only one I consider to be exclusive to Bright Eyes, the other two are great songs in their own right).

Paul McCartney –"Wonderful Christmastime"
I tend to enjoy Christmas songs with a more depressing feel, even when the message isn't a depressing one. I just like the contrast of the happiest time of year, being described in a song that sounds exactly the opposite. Wonderful Christmastime by Paul McCartney does not fall into that category. This song is here simply because of how stupidly happy it is. From the goofy keyboard lines to the simplistic verses and chorus, everything about the song is upbeat. And if you're going to go for a happy Christmas song, then go all out. This isn't too surprising, coming from the ever-optimist of a Beatle. As an ulterior motive, I like listing this as one of the best Christmas songs ever simply due to how many people absolutely HATE this song.

"The Little Drummer Boy"
I can't really explain why I like this song so much. The lyrics are nothing special, nothing stands out too much about the music, and I don't think the "pa rum pump um pums" are enough to put it over the top. And yet there it is: number five. This is one of the songs where there are a lot of different artists who turn in renditions that I really like. First is the Vienna Boys Choir, who have recorded so many good renditions of Christmas songs that I am able to overcome the creepy overtones that comes with listening to them. The other two versions are by Low and Bright Eyes. The Low version is a very plodding, distorted, and sparse version. It has a very hauntingly reverent sound, which is fitting for many traditional songs, yet often lacking. The Bright Eyes version features heavily distorted vocals, and a military-sounding drum sample repeating throughout.

The Chipmunks – "The Chipmunks Song (Christmas Don't Be Late)"
This, like the Peanuts songs, gains its strength from the fact that I've been listening to it since I was a kid. The reason this song is higher up than Christmas Time Is Here is because I could listen to the Chipmunks Song all day long. I usually kept listening because I always figured that eventually David Seville would snap and start beating Alvin with a belt.
Since hearing it, I always wondered what the big freaking deal about getting a hula hoop was, since I never cared for them in the slightest. With the father figure screaming at Alvin the whole time, as well as lines like, "We've been good, but we can't last / Hurry Christmas, hurry fast," the song also has a strong Calvin and Hobbes ancestor feel. It's a testament to the song, that a "novelty" song can be rightly considered a classic.

"Carol of the Bells"
There really isn't much to say about this song. No matter who is performing it, it will be good. It comes in two flavors: vocal and instrumental. The instrumental is more commonly heard; I also prefer it. The version with vocals is really good as well, since I rather like their hurried pace. I like the instrumental version better simply because the song is so good. The vocals, while enjoyable, distract from the music itself. Again, while there are certainly better versions than others, it doesn't really matter who is performing it, it will be good no matter what. This is also a song that everyone knows, but not everyone knows the name of, so here is a crappy midi file that does the song no justice, in case you're not sure.

"Have Yourself a Merry Little Christmas"
By now, we have established that somber and / or sad Christmas songs are excellent. The best part about Have Yourself a Merry Little Christmas is that it technically isn't sad. The lyrics are very uplifting and optimistic. Yet the entire song is always blanketed in a strong feeling of melancholy. Unless it is an exceptionally goofy performance of the song (in which case, the performer should be shot), no artist is able to make it feel like a happy song. The song's music and mood just have a strong "sad" feeling to it. Although it could certainly have a more depressing atmosphere. Sample lyric from the original draft of the song: "Have yourself a merry little Christmas, it may be your last." Ho ho ho!
The sparse piano tinkling, the muddy pacing of the music, the often lack of any emotion in the vocals; it has it all. The blending of emotions from the happy theme being displayed in such a somber, almost morose tone makes for a very unique listen. Without a doubt, it is my favorite of the "classic" Christmas songs.

Run DMC – "Christmas in Hollis"
Christmas in Hollis is the greatest Christmas song ever written. It's not because of its wonderful lyrics about the holiday spirit, it's not because of its beautiful musical composition, and it's not because it is the number one favorite of Christmas carolers worldwide (though it should be). It is the best Christmas song ever written because it is so awesome. From the moment the beat kicks in after the opening sleigh bells, you can tell this song is going to be fantastic.
Run starts off by rapping about being in the park on Christmas Eve, seeing Santa, and finding his wallet. Santa's wallet apparently contained a million dollars in hundred and, uh, thousand dollar bills, and a license that said "Santa Claus". Run, however, would never steal from Santa (cause that ain't right), so he went to mail it back to him that night. Although I would never recommend mailing cash. But when Run got home, he found a note from Santa, saying the million dollars was a Christmas present to him. Damn.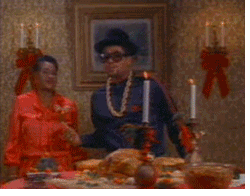 DMC then extrapolates on his family's Christmas menu, including macaroni and cheese (which is served on a spinning table), as well as his household decorations. The video for this song is fantastic, featuring some of the stupidest and cheapest looking sets found in any music video, ever. The video allows for the band to actually have fun in a Christmas song, and it actually appears like they are. The video also involves one of Santa's elves spying on Run DMC, then stealing Run's black hat and chains. In exchange, Run gets an elf hat.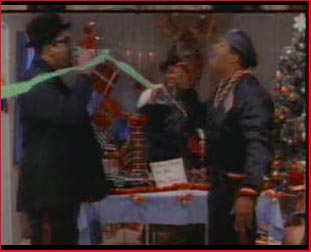 The finale of the video has Run, DMC, and Jam Master Jay coming back to find their presents from Santa: two mics and a turntable. Awesome. They rap some more about Christmas, and begin throwing streamers around. And while describing this video, Butt-head put it best: "Christmas would be cool if it was like this."
Yes, it would.